How we are helping others

Since the club's inception in 1967 we have had a rich history of giving charitable donations from money raised at our functions.
March 2017 – Donation of $17,750.00 to Cri Du Chat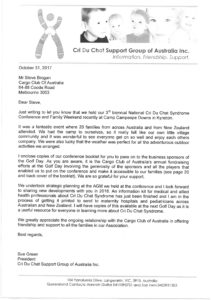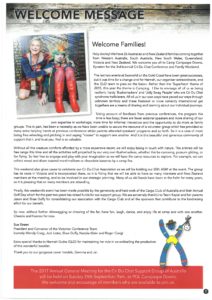 Read the full letter of appreciation from the Cri Du Chat Support Group of Australia, on how the Cargo Club of Australia has helped them. CRI DU CHAT – THANK YOU LETTER – CLICK HERE
After hosting our second annual charity golf day supporting the Cri Du Chat Support Group of Australia we are pleased to be able to donate $17,750. This represented an increase of 20% from last years golf day and we look forward to supporting them again in 2018.
Thank you letter from Cri Du Chat – Letter to CCof Aust April 2017
CARGO CLUB DONATES $1000 TO SECOND CHANCE ANIMAL RESCUE !
Everybody loves animals and so does the Cargo Club. Paula Cameron a long term Cargo Club Committee member volunteers a couple of days per week over at Second Chance Animal Rescue at their shelter in Campbellfield. We visited the shelter in May to check out all the good work that they do and to present them with our cheque.
We are proud to be able to assist them with this donation to help them with their good work in saving animals and re-homing them. If you are looking to getting a new family pet why don't you check out Second Chance Animal Rescue first and help save these beautiful animals. Or if you would like to donate yourself they are a non for profit organisation and every dollar counts. Please find out more about them below and also check out their website:- http://secondchanceanimalrescue.com.au/
Second Chance Animal Rescue was founded in 2008 after vet nurse and local shelter volunteer Marisa Debattista witnessed firsthand how many beautiful animals needed help, versus how little resources were available.
Knowing she could make a change, Marisa launched Second Chance Animal Rescue with a few vet nurse friends and a handful of animals. Since then, we've grown into a network of hundreds of foster carers and other volunteers, with just as many cats and dogs in care. We're proud to say that by the end of 2015 over 6000 animals had been rescued from not-so-pleasant fates in pounds and shelters throughout Victoria, and are now happily settled in new homes around the state. (Of course, our adopters will tell you, the question remains about just who saved who!)
On April 19th, 2015, after many years of planning and endless fundraising efforts, our first animal shelter opened in Campbellfield, Victoria. This allows us to save more animals and gives potential adopters the chance to meet animals in a happy, relaxed space. We'd love you to visit us. Who knows? You might just meet your new best friend. #secondchanceanimalrescue
February 2017 – Donation of $10,000 to Paul Noom (Direct Couriers)

Now four months since suffering a stroke we are pleased to advise he is on the mend to recovery however there is still a long road ahead of him.When we re-invigorated the club our mantra was to try and help firstly our own people within the club and our industry, where our donations could really make a big difference to people in need. Following through with this, the Cargo Club of Australia presented Paul and his wife Amanda with a cheque for $10,000! The money is to be used to cover the costs for their two sons schooling at Assumption College for 2017 and hopefully easing some of the financial burden that comes with a long rehabilitation
Cargo Club of Australia's first charitable donation after rebranding!
Recently we have had the pleasure to again help one of our own in donating $2750.00 to Remy Bove & his family who works for Emirates Cargo in Melbourne. His son Daniel suffers from Down Syndrome and whilst there is no cure there are ways to assist not only Daniel but also the family to make their lives easier.
The family will be travelling to Philadelphia, USA to attend a course during June 13-15th this year at the Institutes for the achievement of human potential.
The Institutes is a group of nonprofit institutes founded by Glenn Doman in 1955. The Institutes is internationally known for its pioneering work in child brain development and for its programs to help brain-injured children achieve wellness and well children achieve excellence.
Historically, children diagnosed with developmental delay, cerebral palsy, autism, Down syndrome, attention deficit disorder, hyperactivity, learning problems, dyslexia, and a host of other symptomatic diagnoses have been considered hopeless.
Thousands of parents have come to The Institutes to learn how to help their children at home. Those parents have proven beyond any doubt that brain-injured children are not hopeless, but instead have tremendous potential. The Institutes exists to insure that all brain-injured children have a fighting chance to be well.
The objective of The Institutes is to take brain-injured children, however severely hurt, and help them to achieve normality physically, intellectually, physiologically, and socially.
For over a half-century, families have found their way to The Institutes from more than 120 nations. The families of The Institutes represent virtually every race, religion, and creed on earth.
While there is a great diversity of background, language, and culture among the families, they have in common an extraordinary devotion to their children. Their children are their first priority in life. They are committed to doing everything in their power to help their children realize their full potential.
So we wish the Bove Family a safe trip and hope that our donation towards the cost of the course helps not only young Daniel but all of the family.
Once again a big thank you to all of our members, guests, friends, and our sponsors that make these donations happen. Without all of your support coming to our functions we wouldn't be able to help our friends in need.
Over $20,000 in donations by the Cargo Club
Over the years we have supported the following organisations to name but a few. Children's Hospital, Tourette's Australia, Heart for Kids, Royal Flying Doctor Service, Children's First foundation, Make-a-wish foundation, Anglicare, The Smith family, Australian Red Cross.
In late 2014 when the club was reinvigorated and relaunched a mandate was called that in future the club should try to help and assist our own industry colleagues that may need assistance through our fundraising.
We are pleased to advise that in this short time we already have assisted members and colleagues that have loved ones that suffer from the following afflictions being Cru Du Chat, Rhett Syndrome & Down Syndrome. Whether it has been assistance to attend medical conferences, buy special equipment to assist in their child's development the club is proud to been able to assist with donations for the past 12 months in excess of $20,000.

Read the full letter of appreciation from the Cri Du Chat Support Group of Australia, on how the Cargo Club of Australia has helped them with donation of $14,500.
Cargo Club supplies $3,680 for Rhett Syndrome Sufferer
The Cargo Club was advised during our Christmas party that there was a young girl named Chloe Spicer that suffers from Rhett Syndrome.
Rett syndrome is a childhood neurodevelopmental disorder characterized by normal early development followed by loss of purposeful use of the hands, distinctive hand movements, slowed brain and head growth, gait abnormalities, seizures, and mental retardation. It affects females almost exclusively.
A lot of girls with Rett Syndrome develop scoliosis therefore specialised chairs are important for their posture to keep them in straight upright position.
Speaking to her mum Melinda Buttery from Loch M Fraser who advised that she was in need of a specialised wheel chair to help with the above. After further discussion with the committee the Cargo Club is pleased to advise that they will be donating $3680.00 to purchase this chair for Chloe!