AUGUST 2019
Wednesday 7th 12pm
Annual General Meeting
Mantra Tullamarine
We now turn our sights to our AGM that will be held at the Mantra Tullamarine next Wednesday 7th August at 12 noon sharp!
All members are welcome to come along and see how the club performed financially for the previous year and find out more about what donations we gave to various charities and people in need. We will also hold voting for committee positions, so we would love to see some members come along that might also be interested in joining the committee to assist the club during 2019/2020.
If you are coming along to the AGM could you please RSVP back to us ASAP as we will be providing light refreshments and sandwiches during the meeting and we need to advise the Mantra how many will be attending. Please RSVP  back to us at the following email address  aircargoclub1@gmail.com
Following on from the AGM we have our final two functions for the year.
SEPTEMBER 2019
Thursday 12th 12pm – 3pm
Business Networking Lunch
Mantra Tullamarine
Footy Finals Special Guest Speaker 
After the success of last years footy finals themed lunch where we had over 80 people in attendance to see Kevin Sheedy we have decided to once again seek a special guest and we are proud to announce that "Slammim" Sam Kekovich also known as the "Lambassador" will be entertaining our guests this year!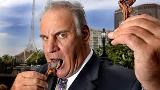 NOVEMBER 2019
Friday 22nd 6pm – 10pm 
Christmas Party – Moonee Valley Night Races 
This year change of venue and time to combine not only our Christmas Celebration but also add the excitement of going to the night races at Moonee Valley ! We are expecting a big crowd to this awesome night and hopefully we can also bring home some winners and cash on the punt. This is a great way to see the year out at the Cargo Club and maybe even make this your staff Christmas party or bring some of your customers along.
For the Christmas party we are off to the night races. It isn't actually in the race track but next door at Moonee Valley Legends overlooking the home turn and if you look at the picture on the far right you will see private function room that we have booked that backs onto the balcony with views over the racetrack and city skyline. Hopefully we will have some nice Melbourne weather to make it even better
Updated details and full information about these events will be out in the coming weeks. Please remember all the monies we raise go to charitable causes so please lock these dates into your diaries. All events are available for sponsorship so if you would like to sponsor one or multiple events please get in touch with the club to find out about our sponsorship packages. aircargoclub1@gmail.com